Open to everyone who appreciates a good meal. In a cultivated atmosphere and cozy ambience, our guests enjoy a fine home-style cuisine with mainly regional ingredients and recipes. Seasonal, game dishes and real local classics determine the face of the house. And – here the boss cooks himself and spoils you as a guest with particular pleasure, directly and uncomplicatedly. As they say, you get to know and appreciate each other over a meal. A warm welcome.
PS: In the warm summer months it is very relaxed, cozy and beer good under our 300 year old walnut tree in the courtyard and in our Mediterranean beer garden. We carry beer and wine specialties from our region. The fresh summer cuisine does the rest.
As the kitchen so the guests:
Cozy and open to the wishes from the guest, as far as they are in the regional and seasonal are not an issue. Our menu is fine, not exotic and rather home-oriented. Normal for every hunger and every little thing prepared. Vegetarian and vegan may also be in demand. In any case, the kitchen is happy about tasteful guests and since it always meets the boss, special requests are not special. Try it and taste it.
Translated with www.DeepL.com/Translator (free version)
Dishes from the home cooking to pick up or delivered!
Our hotel can be reached at the reception daily from 7:00 am to 10:00 pm.
By phone at +499341 988-0
by Email : reception@hotelbadischerhof.
Restaurant is open from 11:30 to 14:00 and from 18:00 to 22:00.
Kitchen closes at 21.00
Breakfast buffet weekdays from 7:00 am to 10:00 am, weekends from 8:00 am to 10:00 am.
Mondays and Fridays are our days of rest in the restaurant.
We are happy to open for celebrations and groups also on the day of rest.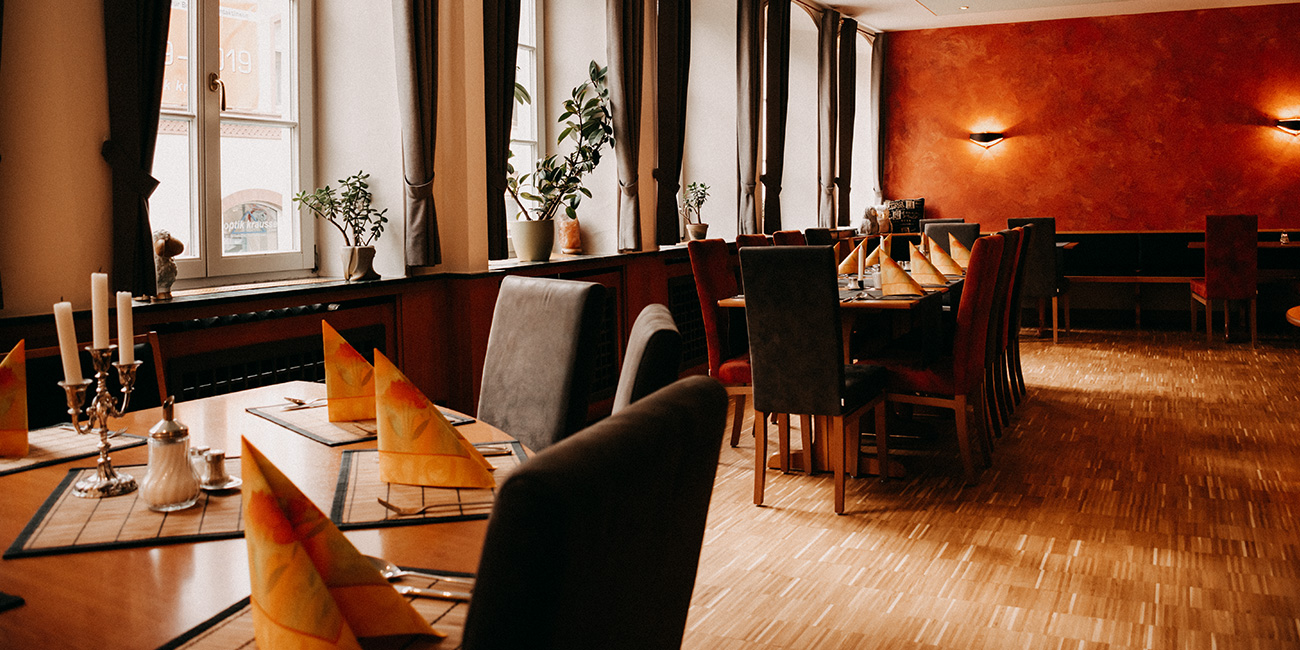 Seasonal dishes
From October to February we offer a variety of game dishes, depending on hunting luck. Fresh trout is available all year round, cornish plaice of course only in May. From the end of March you can expect asparagus specialties. From the middle of June the chanterelles grow and later the porcini mushrooms.

Cinema Dinner Night
Movie diner night with movie, popcorn, fries and burger.

Dinner for 2
Dinner for 2, anniversary menu in 3-4 courses by arrangement.

Catering
You are celebrating a party and are looking forward to support. We advise and supply you here gladly with appropriate food and drinks. But even if it's not a party, but a surprise guests have announced, we supply you quickly and easily with good cuisine. Just give us a call. Also large groups are spontaneously no problem. We will bring it to you or you can pick it up yourself.

Festivals and celebrations
Celebrate as the celebrations fall! If you are looking for a cozy setting for your celebration and feel comfortable in our restaurant, then plan with us long in advance or spontaneously your next celebration. Up to 50 guests everything is possible. But also smaller groups and occasions are nice. For us your festive days are gladly seen work days: Birthday, anniversary, white Sunday, confirmation, Christmas celebration, senior meeting, funeral celebration, which offers evenly the life in such a way to the cause. We work hard and you celebrate your party. Ask us.
Go to "Hotel Badischer Hof"